Accufit is an easy to use bicycle sizing system based on computer modeling of the riders' anatomical measurements. This is far more accurate than other systems based on a collection of empirical data. To produce optimal results, it is imperative that accurate body measurements be used.
There are several methods available for taking body measurements. You will find detailed instructions for each of the methods available in the main help file. Please read and follow them carefully for best results.
The primary method for taking the riders measurements is the Accufit Links method seen below. This can be used either with the Accufit Caliper or without.
The measurements must be entered in millimeters when using the Accufit Caliper. Note the checked box on this form.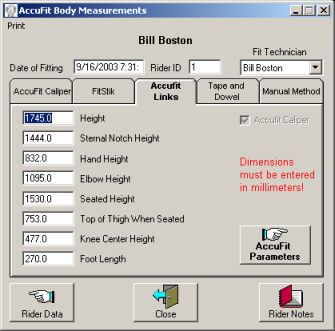 Then you are not using the Accufit Caliper with this method, you may select any convenient unit of measure. The units will automatically be set to the appropriate value after you have entered the Rider Height.